Hello, and welcome!

I am Natalia and my journey began during art university years with a great yearning to create with my hands, designing something that can inspire every woman.

THE INSPIRATION

for my work is found in a myriad of places, everywhere from architecture and nature to traditional folk art and art itself. My fascination with color, balance, design and shape is reflected in the unique and cheerful appearance of my artwork, all combined in harmony. Each piece I put together becomes a miniature work of art imbued with eautiful, effervescent spots of color.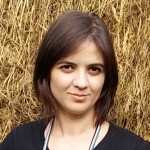 My artistic endeavors are rewarded by the constant support of my wonderful friends, family, and customers! Thank you.
No accessory express better

the beauty and elegance of a woman as well-chosen jewelry. Designed very carefully and painstakingly handmade jewels are true works of art, perfect for women who seek special pieces with unique designs that impress with their originality.

Discover a variety jewelry

on my website and let yourself be seduced by the designs that you like and that will emphasize your uniqueness. My biggest goal is to inspire women who appreciate beauty and simplicity making them feel beautiful and happy through my art.